Made to the highest global standards
Japanese are known to be perfectionists. We at Aizome Bedding want to make sure that everything we make, is of exceptional high quality. Quality means dermatological safety, environmentally friendly and material quality. This is why we have contracted there different certification agencies to verify from different perspectives, that what what we promise to you us what you get.
GOTS - Global Organic Textile Standard
The Global Organic Textile Standard (GOTS) is the world's leading textile processing standard when it comes to organic fibres. It defines high-level environmental criteria along the entire organic textiles supply chain and requires compliance with social criteria.

A textile product that is carrying the GOTS label "organic" must contain a minimum of 95% certified organic fibre where a product carrying the GOTS label "made with organic" must contain a minimum of 70% certified organic fibre. All chemical inputs such as dyes and auxiliaries used must meet a set of environmental and toxicological criteria along with waste water management treatment plan for any wet processing involved.

GOTS certification covers the whole textile process include fair labour practices (no child labour!) and the assurance that there is no known toxic substances used as part of the manufacturing process and therefore safe for humans.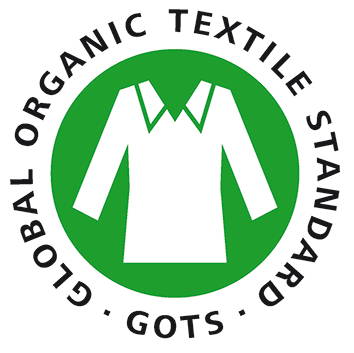 OEKO-TEX - Standard 100
OEKO-TEX The STANDARD 100 by OEKO-TEX® is a worldwide consistent, independent testing and certification system for raw, semi-finished, and finished textile products at all processing levels, as well as accessory materials used. To obtain a OEKO-TEX Standard 100 certification, the textile needs to be free from more than 100 substances known to be harmful to human health, specifically pointing out the safetyness of infants.
The standard takes into account the following: Legal regulations, such as banned AZO colourants, formaldehyde, pentachlorophenol, cadmium, nickel etc. Other harmful chemicals that are not yet legally regulated. For European consumers OEKO-TEX certifies that the requirements of Annexes XVII and XIV of the European Chemicals Regulation REACh as well as the ECHA SVHC Candidate List are met. For consumer in the US OEKO-TEX certifies that the requirements from the US Consumer Product Safety Improvement Act (CPSIA) regarding lead are met.

QTEC
Qtec is a large Japanese textile assessments center that regularly checks our textiles. This way we can verify that no contaminations have happened at any stage of the production or transport and also check the material quality. The last point is especially important, and we are proud f it, because natural dyes are often not very color fast. Aizome Bedding, however, is scoring higher than most chemical dyes. The test reports show that e have Zero chemical contaminations and score high in all color fastness criteria. You can dowload the latest report here.