Allergy-Free Knitted Snood with Drawstring
---
Warm, comfortable, and protective allergy-free headgear for colder days
When the temperatures fall below zero, we're all in need of extra warmth, protection, and comfort. Good thing, you won't have to spend the chilly days cooped up indoors with our Allergy-Free Knitted Snood with Drawstring, made with 100% organic cotton.
This latest hypoallergenic knitted headwear, which fits snugly by the face and can be tucked down by the collar, features a breathable rib-knit fabric, a classic pull-on design, and an adjustable 100% organic drawstring for perfect skin—shielding your skin from contact with synthetic-made hoodies and other scratchy outer layers. 
Features
Unisex

Allergy-free construction made with GOTS-certified 100% organic cotton

Breathable rib-knit fabric for extra stretch

Classic pull-on design 

Adjustable 100% organic cotton drawstring for perfect fit

Reusable. Easy-to-wear. 

Without latex and spandex

Free from chemicals and synthetics
RELATED ARTICLES:
Why Wear Organic?
Allergy-Free Wardrobe Guide: 4 Factors to Consider When Buying Eczema-Friendly Clothes
5 Reasons Why You Need Knitted Organic Cotton Pieces in Your Wardrobe
Product Care
In order to preserve the quality, retain shape, and maintain a continuous uncompromised allergy-free experience, we highly recommend hand-washing our organic cotton knitted garments at no less than 30°C with a mild detergent. 
If using the washing machine, gentle cycle only.
Dry on a flat surface, avoiding direct sunlight. 
Never wring or hang dry.
Read our Organic Cotton Knitwear Care Guide for more information.
---
---
This product is sold and shipped by Cottonique. For general and shipping questions, please contact Cottonique's support at customersupport@cottonique.com.
Cottonique Refund & Return Policy

We would be happy to replace or exchange to you in the unlikely event that you are not completely satisfied with your order within 30 days from delivery. However, for refund, such must not be removed from their original packaging.

RETURN AND EXCHANGE

Items that have been opened and returned back to us are not repacked but disposed in order to comply with our companies hygienic standards. Because of this, opened items with a broken seal are only subject to store credit for future purchase or exchange.
Items in unopened (sealed) packaging may be fit for resale and can be returned to us for either an exchange or a refund.
All items must be sent back to us at your cost. Please note that this implies that you would be responsible for the cost of returning any merchandise to us.

REFUNDS

Refunds will only be credited to the payment card or payment account used for the purchase within 40 days after the order was placed. It is your responsibility to ensure that you take all necessary care when returning goods by post and obtain a proof of posting as we cannot be liable for any goods lost or damaged in transit.

To complete your inquiry, email us your order number and the name of the item/s you want to return to customerservice@cottonique.com. We will then email you our return instructions and return shipping address, so you can ship the items.
About Cottonique
We Want to Create True Allergy-Free Clothing
Millions of people suffer quietly every day from the harmful fabrics, chemicals, allergens, and irritants in clothing. We were one of those people. So we decided to do something about it.
When wearing the wrong clothing can lead to severe skin reactions, simply choosing natural fabrics or avoiding latex and synthetics is not good enough. This is because different allergens and irritants are used at every stage of the production process.
We created Cottonique to change this.
Working with some of the best dermatologists and applying over a decade of innovation in clothing production, we created the world's leading Allergy-Free clothing to keep you safe from allergens, irritants, preservative dyes, detergents, fragrances and other harmful chemicals.
Cottonique: The Authority in Allergy-Free Clothing
From harvesting organic cotton to sewing the last seam, our entire organization has one goal: to bring you the safest clothing so you feel comfortable in your skin again.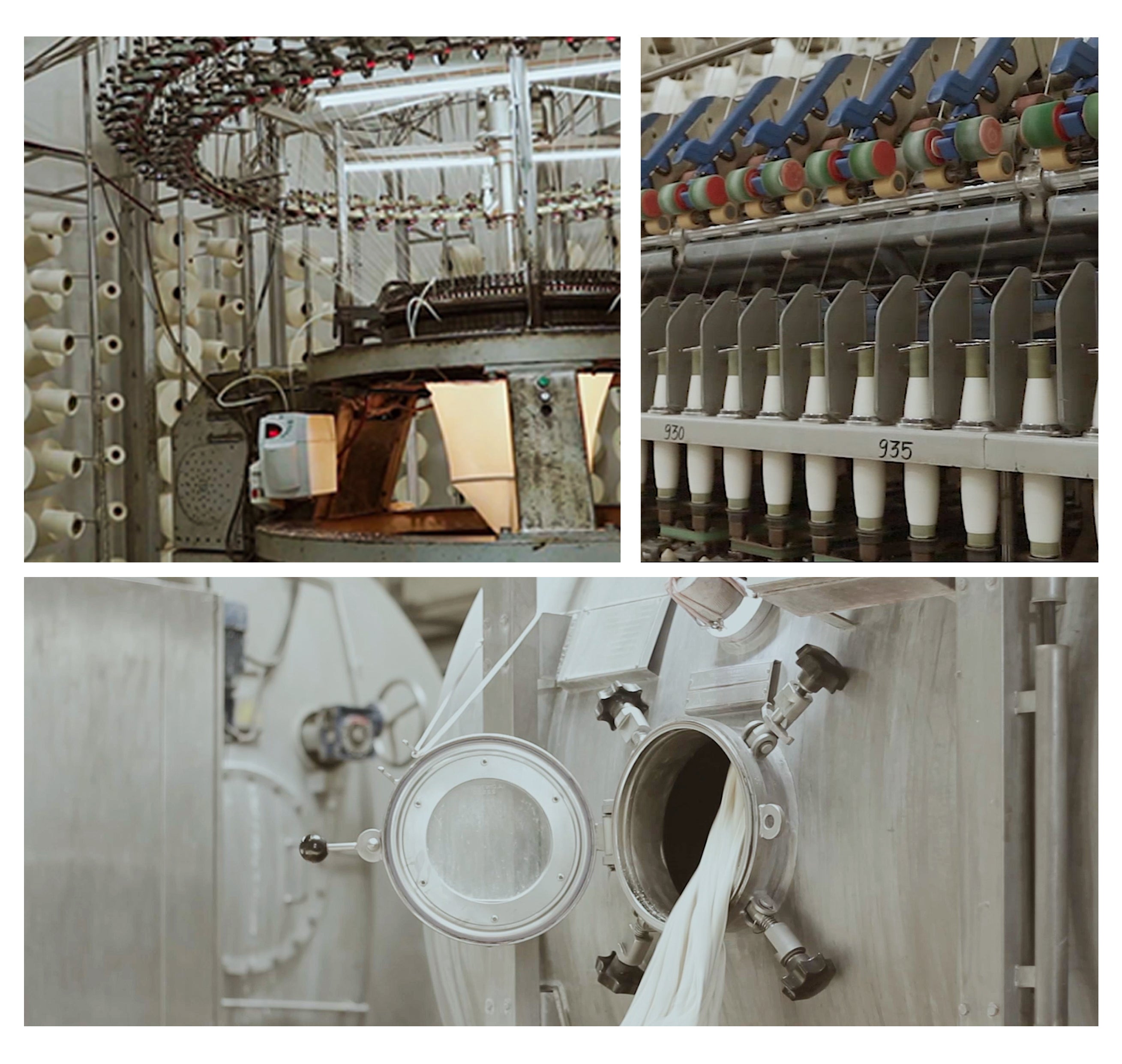 100% Hypoallergenic, 100% Organic Cotton
Zero Latex | Zero Spandex
FAQ
Cottonique: The Authority in Allergy-Free Apparel is one among the many brands under Essential Layer Inc., a company built on the core belief of providing innovative apparel solutions to fill the exact needs of individuals who have no alternatives.
Where does your cotton come from? And where are your products manufactured?

We buy our yarn from GOTS-certified organic cotton farms in India. Then, we manufacture allergy-free organic cotton clothing in a controlled, allergen-free environment, situated in a 60,000-square foot factory in Parañaque City, Philippines. 
Are all your products certified organic?

Yes! All our items are certified organic. We ensure that all the cotton used in our garments is organically grown and adheres to the Global Organic Textile Standard (GOTS). Our raw materials supplier duly complies with the Control Union Inspections & Certifications India Pvt. Ltd. - Navi Mumbai, one of the control unions accredited by the Global Organic Textile Standard (GOTS).

GOTS is the stringent voluntary global standard for the entire post-harvest processing, which includes spinning, knitting, weaving, dyeing, and manufacturing of apparel and home textiles that are made with organic natural fibers. If you want to know how eco-friendly Cottonique is, you may read: How Eco-Friendly is Cottonique?
What type of thread is used to sew the garments?

In order to keep our customers comfortable and itch-free, we utilize 100% cotton thread on our Natural colored items. However, for the colored ones, we make use of a premium-quality, core-spun thread that combines a high-tenacity polyester filament core with a 100% cotton cover. 

Although it's a cotton-wrapped polyester core thread, the actual percentage of polyester core thread in our colored items is only a maximum of 1% per garment. If you're wondering about the quality and safety of our 100% cotton thread,  please see OEKO-TEX® STANDARD 100 Certification. For our poly-cotton spun thread, you may also view its certification here.
Do you use any dye, latex, or spandex in your product?

All our NATURAL colored products are completely dye-free, bleach-free, chemical-free, latex-free, and spandex free. However, we utilize special yarns for our colored collections like Black and Melange Colors. 

For our Melange Colors, we utilize GOTS-certified 100% Organic Cotton Yarn, knitted to become fabrics. As for our hypoallergenic products dyed in Black, we use 100% Organic Cotton Fiber Dyed Yarn. 

You can check the certifications of each material here. 

Note: If you have severe skin sensitivities, please opt for our NATURAL colored collection.
If your products are latex and spandex free, what holds them?

For our hypoallergenic undergarments to be functional, we believe they need to offer a little bit of stretch without losing their overall ability to provide allergy-free comfort to our customers. That's the reason why we use a special elastic made with white rubber tape and wrapped in 100% organic cotton.

This latex-free and spandex-free elastic, made with one-third the thickness of standard rubber, achieves that stretchable feel and ensures an itch-free experience without natural rubber latex proteins that cause allergy symptoms. 

This special material also presents much higher endurance and quality elasticity without any harmful stuff. If you want to know more details about our special latex-free elastic, please see our Latex-Free Rubber Certification. You may also read our additional resource about our material here: We Use Latex-Free Rubber For You To Have That Itch-Free Day.
How are Cottonique fabrics processed?

We knit and finish our 100% organic cotton fabrics with water and heat (hydrothermal process). This means that we are able to control the shrinkage of the products without compromising the stretch of the fabrics.

This is a process unique to our brand, which eliminates the need to use any parabens or formaldehyde in the finishing process. This is not only beneficial to our customers but it also prevents contamination of the water supply.

To know more about how we handle our fabrics, please read: The Fabric. 
How are your products packed?

Previously, our allergy-free organic cotton products are ziplocked and hot-sealed in a reusable Kraft paper stand-up pouch, laminated with layers of lightweight plastic film for durability and flexibility. However, we have made efforts to further reduce our ecological footprint through greener packaging.

In over a decade of working as an environmentally-conscious apparel brand, we have always embraced the idea of sustainability. Cottonique aims to take its environmental responsibility up a notch by introducing our "Earth-First Packaging." 

This new compostable packaging consists of an inner layer made of PLA lining made from corn starch and a top layer made of Kraft paper. To significantly lessen the environmental impact of your wardrobe after use, you can take the following actions:

Cut the packaging into strips. 

Put the pieces into your compost pit/pile. 

Watch it safely return to Mother Earth within 180 days. 
Shop other Cottonique products:
You may also like these AIZOME products
On sale
On sale
On sale
On sale
On sale